Art Is Still Here: A Hypothetical Show for a Closed Museum

2020 FEB 13 – ONGOING
M WOODS Online Schedule (CST Beijing Time):

Weibo: Everyday @ 12.00 pm

WeChat: Every Thursday @ 6.00 pm

Instagram: Every Thursday and Friday @ 10.00 pm




For the second post in the online exhibition 'Art Is Still Here: A Hypothetical Show for a Closed Museum', we enter the museum's South Stairs Gallery and Chamber Gallery to present our next four contributions by artists:
Allora & Calzadilla, Babi Badalov, Daniel Steegmann Mangrané and Li Binyuan
Here our contributions shift to the relationship of co-existence between humans and animals.
Beginning with the work 'Amphibious' (Login-Logout), by Allora & Calzadilla, which takes place in the Pearl River Delta region in the People's Republic of China and follows a group of turtles that have been placed on top of a wooden log as they are carried along the currents of the Pearl River. To the work by Daniel Steegmann Mangrané that brings us into the south western Brazilian rainforest, the Mata Atlántica, and the contribution by Li Binyuan, who uses the bat as a symbol to reflect the current unstable climate, while Babi Badalov uses his phrases and text works to offer new meanings to their usage and understanding.
This gallery has several different kinds of mediums used by the artists, and contains both new and existing works. Our contributors in this section are coming from Brazil, United States, Cuba, China, and Azerbaijan.
We thank the artists for their contributions and Lisson Gallery and Mendes Wood DM for their support.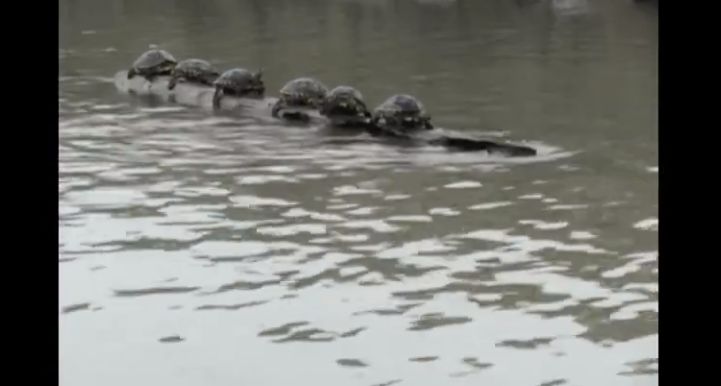 Allora & Calzadilla, Amphibious (Login-Logout), 2005, Single channel video with sound, color, dimensions variable, 6:22min

Courtesy the artist; Lisson Gallery, London
Biography:
Jennifer Allora was born in Philadelphia, Pennsylvania, in 1974. Guillermo Calzadilla was born in 1971 in Havana, Cuba. Allora received a BA from the University of Richmond in Virginia (1996) and an MS from the Massachusetts Institute of Technology (2003); Calzadilla received a BFA from Escuela de Artes Plásticas, San Juan, Puerto Rico (1996) and an MFA from Bard College (2001). Through a complex research-oriented practice, Allora & Calzadilla critically address the intersections and complicities between the cultural, the historical and the geopolitical. The interdisciplinary nature of their interventions is echoed by an expanded use of the artistic medium that includes performance, sculpture, sound, video and photography. Their dynamic engagement with the art historical results in an acute attention to both the conceptual and the material, the metaphoric as well as the literal.
Collaborating since 1995, Allora & Calzadilla were finalists for the Hugo Boss Prize (2006) and the Nam June Paik Award (2006). Select recent solo exhibitions include
Hope Hippo
, Museo de Arte Carrillo Gil, Mexico City, Mexico (2018
); La noche que volvimos a ser gente
, El Museo de Arte Moderno de Medellín, Colombia (2018); Fundació Antoni Tàpies, Barcelona, Spain (2018);
Blackout
, MAXXI, Rome, Italy (2018);
Allora & Calzadilla: Echo to Artifact
, Art Gallery of Alberta, Edmonton, Canada (2016); ALT Art Space, Istanbul, Turkey (2016); a DIA Art Foundation Commission in Guayanilla/Penuelas Puerto Rico (2015) and others.
Work Synopsis:
Amphibious (Login-Logout)
takes place in the Pearl River Delta region in the People's Republic of China and follows a group of turtles that have been placed on top of a wooden log as they are carried along the currents of the Pearl River. The turtles drift slowly along the fast amphibious network of sea and land, mirroring import-export activities, where the flow of capital and labour form the undercurrent of the harbor-port region flourishing in the wake of the new globalized economy.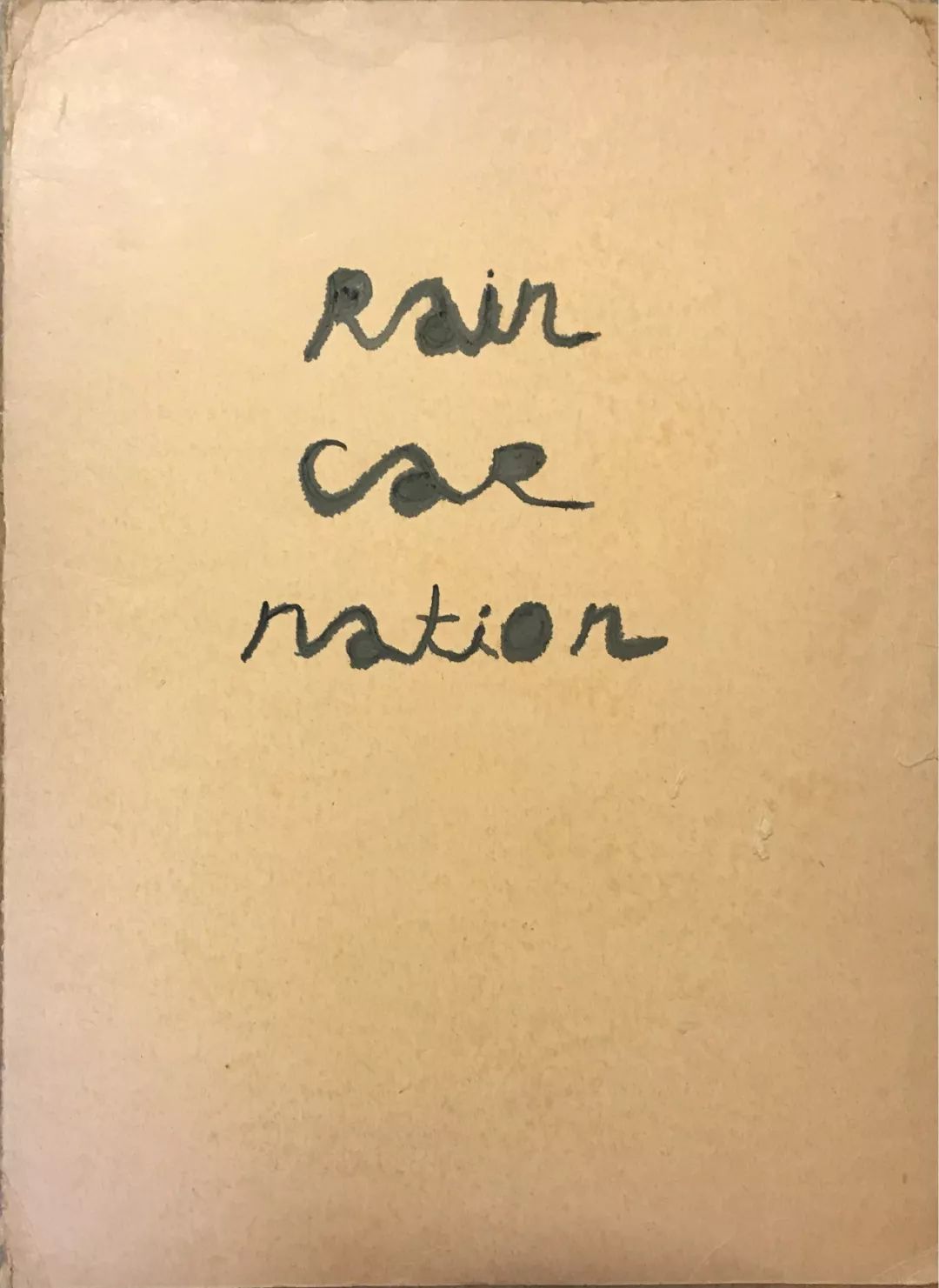 Babi Badalov, Rain car nation, 2020, Ink on paper, 21x30cm,
Courtesy the artist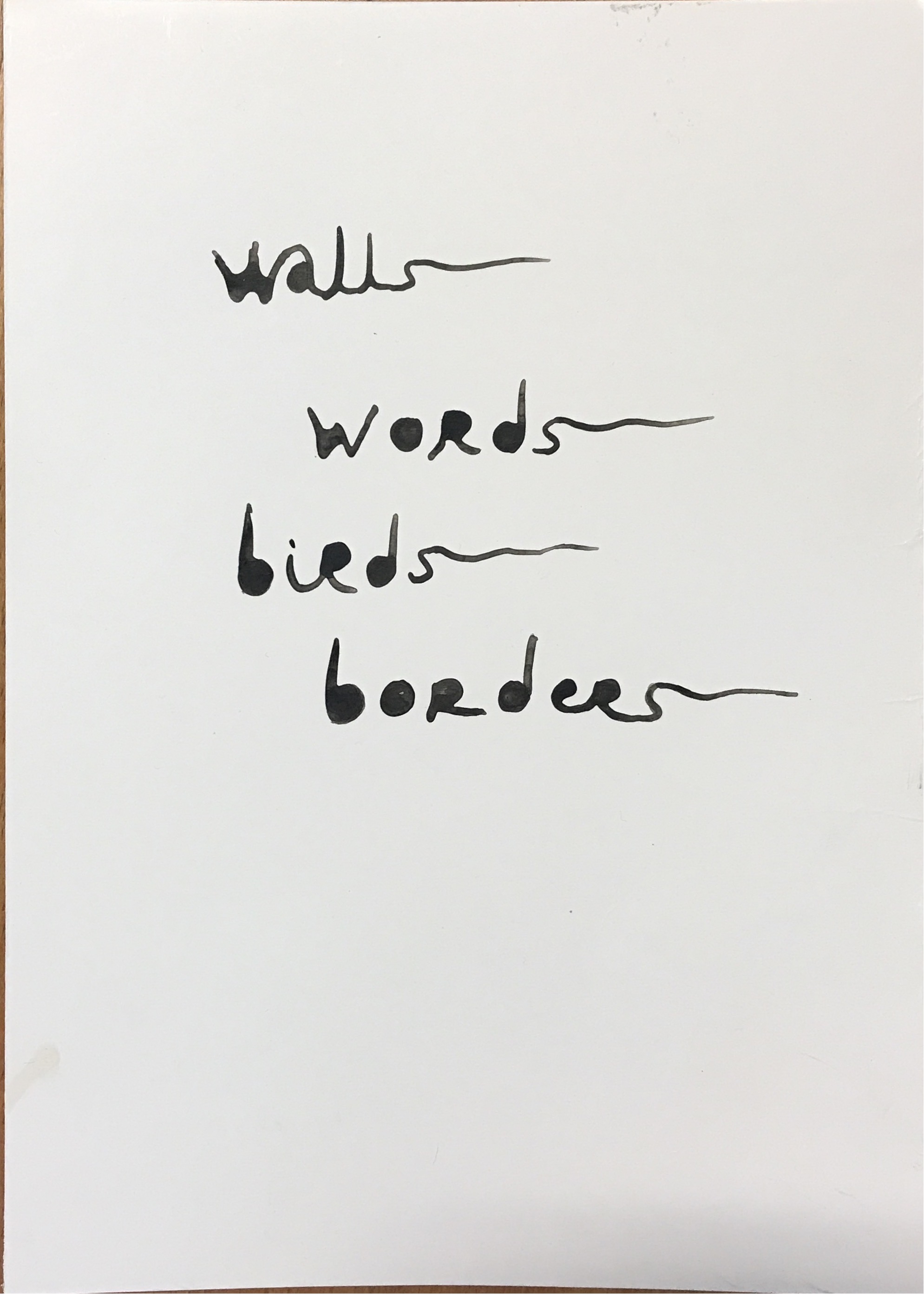 Babi Badalov, Walls words birds borders, 2020, Ink on paper, 21x30cm

Courtesy the artist
Biography:
Babi Badalov, born 1959 in Lerik, Azerbaijan, now lives in Paris. As a visual artist and poet, Badalov expresses his ideas through visual poetry, art objects, installations and live performances. He also experiments with words and writes obscure poetry, mixing languages and images of different cultures. Babi Badalov's work often is dedicated to linguistic explorations researching the limits of language and the borders it imposes upon its users and based on his personal experience of linguistic inconveniences while travelling. He is particularly interested in the way that language is able to isolate individuals from the people who don't share the same language. Thereby, the artist covers current geo-political topics that echoes his own personal experiences.
Badalov's recent solo exhibitions include
Soul Mobilisation
(La Verriere, Hermes Fondation, 2019),
LANDscape LANGscape
(CASCO Art Institute, Utrecht, 2019),
ZARAtustra
(YARAT Contemporary Art Space, Baku, 2019),
Les Réfugies Viendront
(Le Safran, Centre Culturel, Amiens, 2019),
Xenia at the time of war
(The Gallery Apart, Roma, 2018),
Quand la Litterature Sort du Livre
(Festival Extra, Centre Pompidou, 2018),
Je Suis Mazimir Kalevich
(New Museum, St. Petersbourg, 2018),
De More Cry S
ea (Jerome Poggi gallery, Paris, 2018) and many others.
Work Synopsis:
Through the medium of language, current geo-political situation, and relating it to personal experiences, Babi Badalov creates new words seen in other languages. It is based on his personal experience of linguistic inconveniences while travelling. In foreign countries, we often come across words written in the same alphabet as ours, but with different meaning, sound or pronunciation.
Daniel Steegmann Mangrané, 16mm, 2008/2011
16mm film, Color, Synchronized 4 channel digital sound, 4'54"

Courtesy the artist; Mendes Wood DM
Biography:
Daniel Steegmann Mangrané (Born 1977, Barcelona) lives and works in Rio de Janeiro. Mangrané's research is composed of subtle yet crude experiments that question the relationship between language and the world. Although primarily conceptual, his installations engage with the imagination of the spectator and exhibit a strong concern with the existence of everything we see, but especially on everything that we do not see.
Mangrané's work often traces the boundary where nature meets artifice. Lines, circles and rhombuses are drawn, cut and projected onto leaves; the delicate symmetry of branches is split in two. These precise interventions hold a powerful force of attraction: a moment of uncertainty between what is contrived and what is natural. In each of Mangrané's intricate compositions, we get to experience that, far from being distinct, the organic and the geometric, the vital and the abstract, define each other.
Some of the most relevant international institutions have hosted his solo shows, including IAC – Institut d'art contemporain, Villeurbanne; Nottingham Contemporary, Nottingham (2019); CCS Bard College, New York, Fundació Antoni Tàpies, Barcelona, CAC, Vilnius (2018); Fundação de Serralves, Porto (2017); Medellín Museum of Modern Art, Antioquia, The Green Parrot, Barcelona (2016); Museu de Arte Moderna, Rio de Janeiro, Casa Modernista, São Paulo (2015); His works have also been displayed in numerous group shows, such as at the Centre Pompidou-Metz, Metz, 14th Lyon Biennale (2017); 9th Berlin Biennale (2016); New Museum Triennial, New York, Kadist Art Foundation, Paris (2015); 9th Mercosul Biennale, Porto Alegre (2013); 30th São Paulo Biennale (2012).
Work Synopsis: Written by Daniel Steegmann Mangrané
It's a movie shot on 16 mm film in the south western Brazilian rainforest, the Mata Atlántica. Following strategies of structural film making, the film plays with the roll footage used in filming as the constituent base of its form and content. A 16 mm film standard roll of 200 feet (60.96 meters) gives an approximate length of 5' 33'' (333''). That means 1 meter of film is consumed every 5.46 seconds or 18.3 cm. every second.
To make this work I modified a 16mm film camera: It's been built like a special traveling car, replacing the engine and building a transmission system that allows the camera to move along a steel cable as the traveling rail. The special thing of this modification is that it moves, with a single engine, simultaneously and to the same speed, the film on the reel and the camera along the cable. That is, the same engine runs and moves the camera along the dolly, so that the two movements and the two "distances" are mechanically connected.
To film the movie a traveling cable will be tensioned suspended about 4 meters above the forest soil: a perfectly straight line through the winding jungle. The length of this rail is the same as the roll of film to be filmed with the traveling: 60-meter coil filmed, 60 meters of advanced traveling. As I said, both movements are directly and mechanically connected to each other as indivisibly because of the mechanism built: the meters of film shot correspond exactly to the meters advanced through the woods, and the speed of this movement corresponds to the speed the film achieved inside the camera.
The result will be a fix plane, a single shot traveling with constant speed through the jungle, deeper and deeper, for the duration of the roll of film, every inch of progress. It is both an essay on cinema and on the forest and the crossings that occur in it. A film about time, on the nature of the creative act. An exercise of penetration not without psychological connotations. A tactile Looking. A conceptual and physical work.
This structural analysis of the medium takes place in the jungle because even today it is one of the ultimate depths. But the Mata Atlántica rainforest is also, geopolitically, one of the most dense places in the world since the time of the "discovery" to the "post"-colonial day of today, in the jungle is a succession of conflicts: economic, ecological, geographic, human, scientific, historical, territorial, etc., crossing each other, creating a network of relationships as complex as the geometry of the vines, branches and trunks, and so difficult to equilibrate as to penetrate its natural thickness.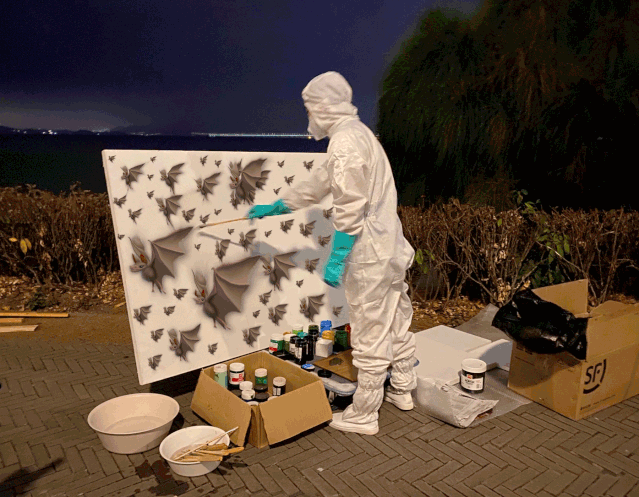 Li Binyuan, The Long Night,2020, GIF Image

Courtesy the artist
Biography:
Li Binyuan was born in 1985 in Yongzhou, Hunan Province, China. He graduated from the Sculpture Department at the Central Academy of Fine Arts in 2011. He currently lives and works in Beijing.
Li Binyuan's practice is an exploration of spatial systems and the possibilities for action within a space. For him, space is a physical and socio-political entity. In his work, space is created based on the artist's plan, presenting completely new meanings and energies. Through his personal interventions, Li invites viewers to reconsider appropriate and legitimate boundaries, casting further doubt on common sense as a medium of control.
Recent solo exhibitions include
Breaking Point
(Rén Space, Shanghai, 2019),
Buffering
(Black Sesame Space, Beijing, 2016),
Headwaters
(Gallery Yang, Beijing, 2015),
Social Behaviours
(CFFA, Manchester),
Who's Dreams
(Today Art Museum, Beijing). Recent group exhibitions include
Afterimage: Dangdai Yishu
(Lisson Gallery, London, 2019),
0:00
(BANK, Shanghai),
Land: Zhang Huan and Li Binyuan
(MoMA PS1, New York, 2018),
Another Leap
(Power Station of Art, Shanghai, 2016),
OpenArt Biennial
(Orebro Art Museum, Sweden, 2015), and others.
Work Synopsis:
Work Synopsis (by Li Binyuan):
The Long Night
originates from a picture taken for a performance work on the night of January 24, 2020 (Chinese New Year's Eve) when I was doing a sketch on the night scene of Hong Kong at Shenzhen Bay. Bats waving their wings serves as an allegory for the current situation in our society.
To Be Continued...
With Contributions By:

aaajiao

Allora & Calzadilla

Annika Eriksson

Babi Badalov

Basim Magdy

Cerith Wyn Evans

Cheng Ran

Chulayarnnon Siriphol

Colectivo Los Ingrávidos

Daniel Steegmann Mangrané

Éléonore Saintagnan & Grégoire Motte

Fan Xi

Fang Di

Guido van der Werve

Haroon Mirza

Hu Xiaoyuan

Huang Rui

Jonathas de Andrade

Katja Novitskova

Laure Prouvost

Lawrence Abu Hamdan

Lawrence Lek

Li Binyuan

Lin Tianmiao

Li Tingwei

Liu Shiyuan & Kristian Mondrup

Lu Pingyuan

Lu Yang

Miao Ying

Michael Najjar

Nabuqi

Oscar Murillo

Patty Chang

Raqs Media Collective

Reynier Leyva Novo

Richard Tuttle

Robert Zhao Renhui

Rodrigo Braga

Ryuichi Sakamoto

Solange Pessoa

Stephanie Comilang

Sun Xun

Tania Bruguera

Timur Si-Qin

Victoria Sin

Visionist

Xiang Jing

Xie Nanxing

Yang Zhenzhong

Yu Ji

Zadie Xa

Zhang Enli

Zhang Peili

Zhao Zhao
木木美术馆798馆
M WOODS 798

北京市朝阳区
酒仙桥路2号798艺术区,D-06
798 Art Zone D-06,
No.2 Jiuxianqiao Rd, Chaoyang, Beijing
开放时间 Opening hours:
周二-周日 Tue-Sun 11:00-19:00
最后入场Last admission 18:30

每周一闭馆 Closed on Mon
注: 根据不同展览,开闭馆时间将会作出相应调整,详情请关注展览页面。

木木艺术社区
M WOODS HUTONG

北京市东城区
隆福寺街95号,钱粮胡同38号,3号楼
Qianliang Hutong 38, Building 3,
Longfusi St 95, Dongcheng, Beijing
开放时间 Opening hours:
周二-周日 Tue-Sun 10:00-20:00

最后入场 Last admission 19:00
每周一闭馆 Closed on Mon
%Arabica 照常营业 opens as uaual
木木舌头 M TONGUE

北京市朝阳区
酒仙桥路2号798艺术区,D-06
木木美术馆后门处
798 Art Zone D-06,
No.2 Jiuxianqiao Rd, Chaoyang, Beijing
(Behing M WOODS 798 Location)
敬请期待 Opening soon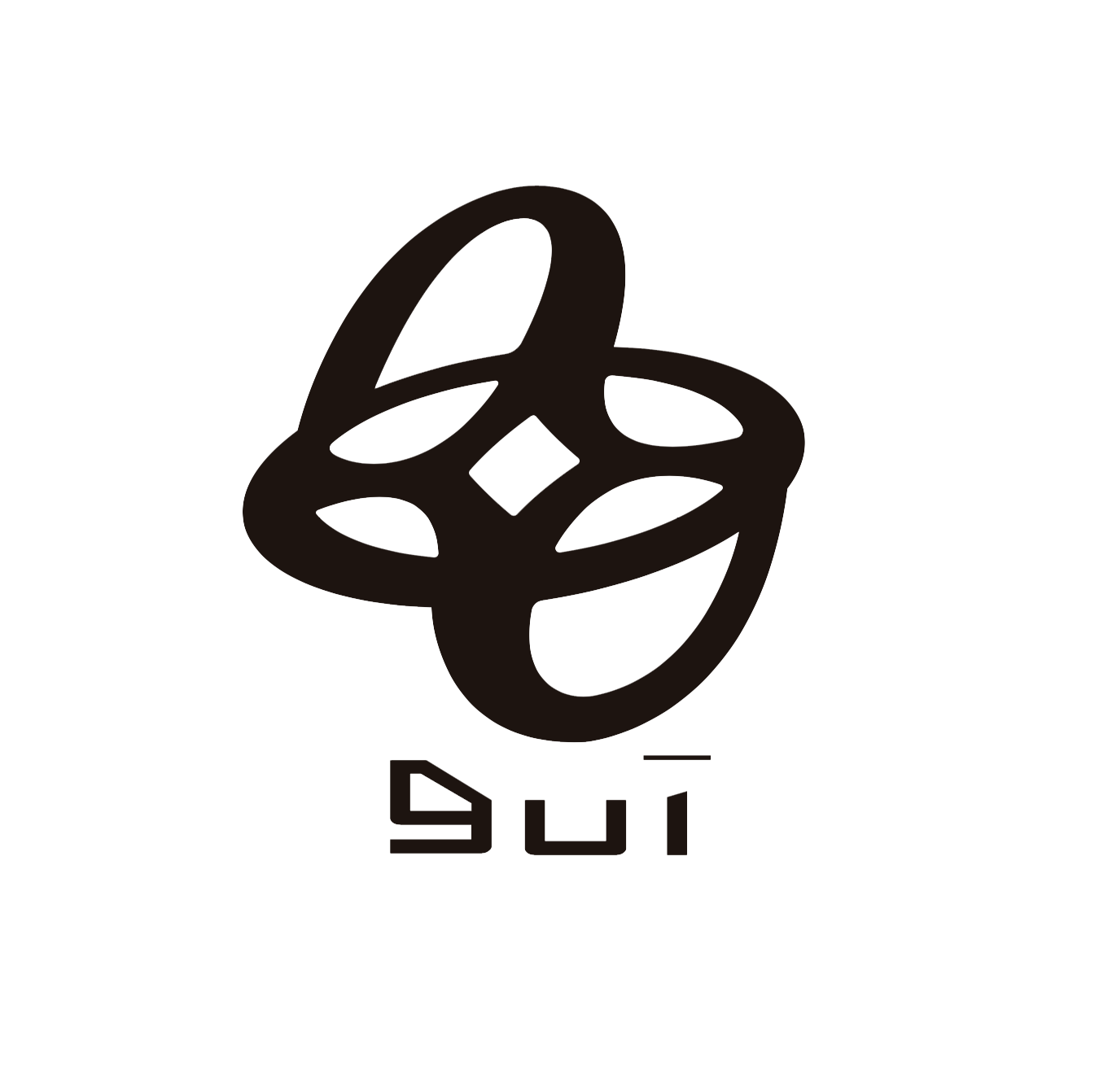 Guī
北京市东城区
隆福寺街95号,钱粮胡同38号,3号楼
木木艺术社区地下一层
Qianliang Hutong 38, Building 3,
Longfusi St 95, Dongcheng, Beijing
(Underneath M WOODS Hutong)
开放时间即将公布
Regular opening time announcing soon